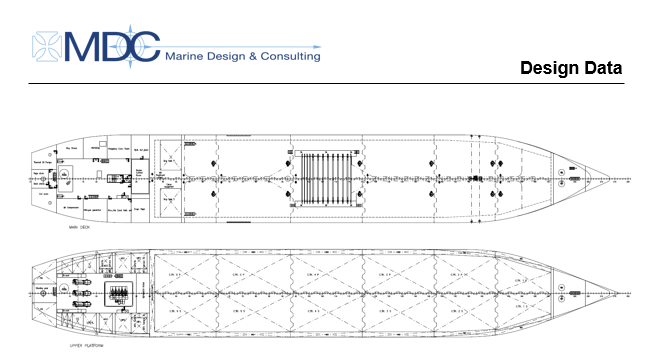 MDC 4205 - 22.000 DWT Product Tanker
General Description
MDC 4205 is an Oil Product and IMO II Chemical Tanker, with coated cargo tanks, designed for world wide operations.
Double bottom / sides are arranged throughout the cargo area and in way of all fuel tanks.
The new hull form includes a new developed wave-piercing bow shape giving excellent performance and reduced hull resistance, both in stillwater and in waves / head seas, resulting in reduced service allowance.
The design can be from an easy low cost, basic diesel fuelled variant to a more advanced Gas / DF solution, ice strengthened options, and cargo tank arrangements adapted to operators requirements.
Meeting latest EEDI and emission standards.
Main Particulars
Length overall
Length betw perp
Breadth, mld.
Depth, main deck
Draught, design / scantling


abt. 183,80 m
173,70 m
26,50 m
12,10 m
abt. 8,75 m

Deadweight and cargo capacity
Deadweight, design / scantling
Cargo tanks


22.000 tonnes
24.500 m3

Speed
Trial speed
Service speed


abt. 16 knots
abt. 14 knots

Cruising Range and fuel consumption
Cruising range in service condition
Fuel consumption at CSR, propulsion


10.000 nm
abt. 15,1 t/d
For more details, please contact MDC AS.
Email: mdc@marinedc.com