SC Connector - Tiltable Rotor Sail and ESS Refit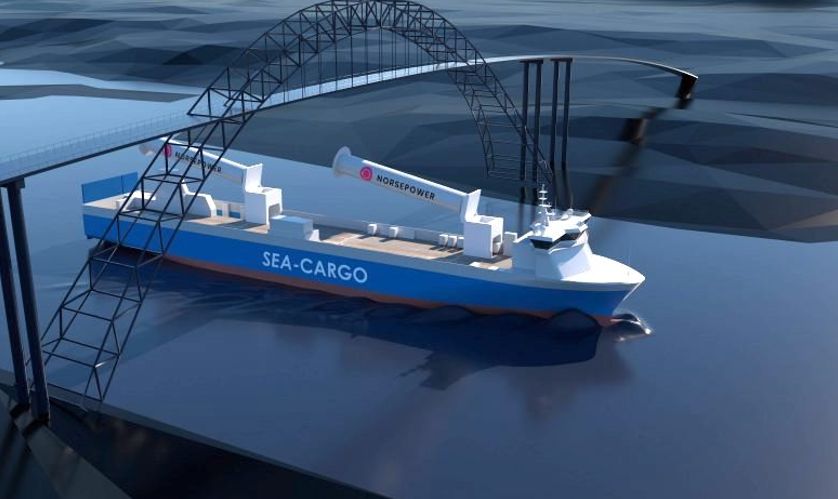 Sea-Cargo, the leading logistics provider in the North Sea market, has selected MDC as engineering partner for the marine engineering design work regarding installation of two of the largest Rotor Sails and an Energy Storage System onboard the SC Connector.
The engineering of the installation of the world's first tiltable Rotor Sail is showcasing the innovative design adaptations that can be made by MDC for individual vessel requirements.
SC Connector, a ro-ro cargo vessel, is operating in the North Sea, which allows for some of the most favorable wind conditions for rotor sails. The routes involve navigating under multiple bridges and powerlines which require the rotor sails to have a tilting function.
MDC has proposed and developed a concept in close cooperation with SeaCargo and further working together with North Sea Handling AS, and such together combined their expertise to develop the tilting system for the 35m high and 5m wide rotor sails, to enable them to tilt to almost horizontal when required, also in most harsh and extreme weather conditions.
Extensive marine engineering, including Finite Element Analys of hull and support structure and the foundations and tiltingsystems have been performed with input from analysis and calculations of ship motions and inertia loads, and extreme wind and sea loads.
Preparations for the retrofit on the SC Connector are currently taking place with the installation scheduled for Q4 2020.
High international focus on reducing CO2 emissions and fuel consumption will favour the ability to harness wind to generate energy, and Norsepower OY, delivering the rotor sails has analyzed the routes for the SC Connector and estimates that its technology would be able to achieve an emissions reduction of 25%.
MDC
is
highly
appreciating
to be working with S
ea
-C
argo
as a part of their team
, hence
participate
in their
continuous
innovati
ve
appro
a
c
h
to
design more
environmentally friendly vessels, by combining
existing
technologies
and innovations
.